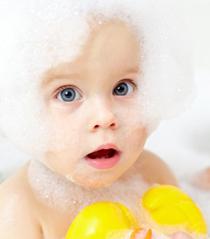 Bath time is a special moment full of tenderness, to share with your baby. In a few steps, this is how to proceed a nice and perfect bath time :
1. Start taking baby's clothes off, in a warm bathroom and pour bath water. Water must be at 37°C.
2. Have the washing gel foamed in your palm first with a small quantity of bath foam on your wet hands. Clean baby finishing by his bottom. Apply the soap leaving baby on the changing table, you will then avoid potential accidents. In the water baby can slip from your hands.
3. Then, put baby in the water and rinse well.
4. Take out baby from the bath water and put him again on the changing table. Dry him out carefully with a clean towel, insiting on neck folds, at the back of the ears, under the armpits and in the thighs folds.
5. If you wish, you can finish this special moment using baby lotion and give a relaxing massage to your baby.