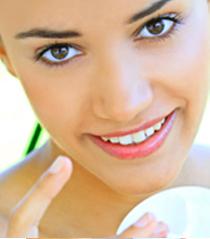 To have a shiny skin and blackheads is not the most glamourous look, but don't panic ! There are many solutions to help you !
You find your skin is not well balanced and produces too much sebum (all over the face for oily skin and on T zone for combination skin) ; treat your skin with a specific product. These skin types especially need freshness, and have a thorough cleansing in order to remove any sort of oily feeling. Choose make up remover water and rose water, light and translucent, they will also give you a tonic freshness to your skin.
Even with oily skin, do not miss this essential beauty moment : moisturizing ! But choose specific light milky texture : your skin can breathe and is not shiny.
Once a week do not forget to clean your skin thoroughly with a face scrub.
But be careful using scrub products. If you use them too often, your skin natural protection may be damaged.